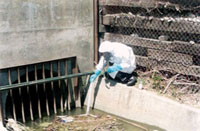 Environmental Subsurface Sampling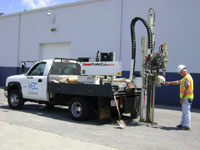 AMS PowerProbe®
HazCorp Environmental Services, Inc. utilizes one of the most versatile and efficient sub-surface sampling systems currently available. Our AMS PowerProbe® can provide sampling of soils and groundwater for both profiling and contaminant identification with minimal site disruption and without the accumulation of cuttings. Utilizing this system, soil samples can be obtained continuously or at discrete, pre-determined depths. Since the system is more compact than a conventional drill rig, it allows access to areas inside buildings.
The primary benefits of our direct push system are: rapid mobilization, minimal site disturbance, wastes are practically eliminated, better access to restricted areas and more samples in less time. It all translates into cost and time savings for our customers.
Dual Tube Sampler
Our dual tube sampling system is faster and more cost efficient than conventional systems. It consists of an outer casing which holds open the bore hole while an inner rod retrieves the sample. The system is designed to sample without risk of cross contamination from draw down and allows use beneath a water table. In addition, our system will permit direct collection of soil samples in a clear plastic liner, (approx. 1 1/2" diameter and up to 48" long). The clear plastic sampling tubes are used only once which eliminates the need for extensive sampling equipment de-contamination and significantly expedites the investigation process. The clear plastic tube also allows a more thorough inspection of the sub-surface strata than conventional split-spoon methods.
Call HazCorp Environmental Services, Inc. to discuss your site assessment needs.